Teen Action Group – TAG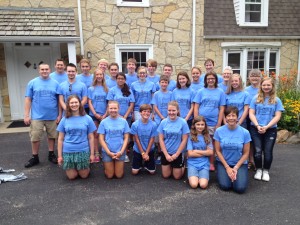 Youth who are in grades 6-12 are invited to join other youth leaders to help plan, implement, and evaluate a total youth ministry program.
Youth who make this commitment are expected to attend one meeting each month and a two-night overnight retreat in August.
Participation in the Christian Formation program, service, and relational opportunities is helpful. Participation in weekend liturgies and prayer opportunities is expected. In return, you will come to know a wonderful group of youth and adults!
The following are the components of the TAG program for youth:
Youth must be in grades 6-12.
Attendance at the TAG retreat – all members are expected to attend the weekend retreat in August.
Attendance at monthly TAG meetings – meeting dates will be set by the youth at the retreat in August.
Attend weekly Mass – regular attendance at Mass is a part of our Catholic faith.
Live out the TAG mission statement – all members are invited to fully live out the mission Statement of the Teen Action Group.