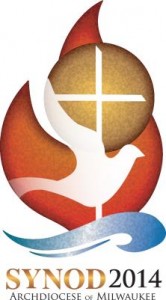 In fall of 2012, now Pope Emeritus Benedict XVI called for a Year of Faith to provide Catholics an opportunity to deepen and share the spiritual richness of their faith.
Inspired by this calling, Archbishop Jerome E. Listecki wrote his first Pastoral Letter on ecclesiology and in January 2013, it was shared with priests and pastoral leadership throughout the Archdiocese of Milwaukee. It was determined that the time is ripe to hold an archdiocesan Synod. Parish sessions were held in the fall of 2013, followed by district gatherings in spring of 2014 with the actual Synod held on June 6 – 8, 2014.
Over the next few weeks, this page will be dedicated to report to you the information discerned at the Synod that was held over Pentecost weekend.
Anne Schmidt, who was our parish representative will be submitting in-depth articles of her experience and a breakdown of the initiatives, and the priorities within each action.
Parish Representative Articles
Introduction

Synod 2014

Nearly two years ago, Pope Benedict XVI called for a Year of Faith. This call brought forth the basis for Archbishop Listecki's pastoral letter Who Do You Say That I Am?  The letter explores the many facets of our identities as Catholic Christians, in particular who we are, as a Church, Mystery, Sacrament and Communion. From this letter, in reflection with church leaders, a decision was made to hold an Archdiocesan Synod to determine the priorities of focus in our many ministries.

When I was asked to serve as Our Lady of Lourdes' Synod delegate, my first task was to read Archbishop Listecki's letter. I have to admit it was a challenging piece to get through and I found my eyes crossing here and there, but the length and depth of its theological reflection was all essential. When we recall Jesus' question "Who do you say that I am?" we are challenged to make a profession of faith. When we think of our own faith identity, we are challenged to go beyond that profession to meaningful action. Sometimes Christian action is simple and obvious – holding a door, sharing a smile; offering a prayer; providing comfort, charity, and encouragement. Other times we have to look at the resources available to us and the needs before us and decide where our identity as believers leads us to make the greatest commitment of action.

The purpose of the Synod was to, prayerfully and with the counsel of our communities, choose the ministries to prioritize for the next decade in our archdiocese. The process was meticulously organized and intended to be as transparent as possible. Discussions began at the parish level with all being invited to discuss our Catholic identities, our challenges and our blessings. These reflections were taken by parish delegates as well as several other representative from each parish to district sessions. During these sessions we dug deeper into the issues facing the church. We worked in small groups with each group spending the day on one topic from the eight mission areas that had been identified from the parish sessions. The mission areas were Evangelization, Formation, Liturgy, Cultural Diversity, Catholic Social Teaching, Leadership, Marriage and Family, and Stewardship. I was in a Marriage and Family discussion group and quickly found that this mission area is filled with hot button issues. I was impressed, however, with the level of respect between individuals with vastly differing opinions and experiences.

I found that respect was carried on in the delegate retreat and finally the Synod itself, which took place June 6-8, Pentecost weekend.

We are a universal church of great diversity and depth of collective character. I entered the Synod carrying with me a certain amount of baggage of cynicism, frustration, and general petty nervousness. (What does one wear to a Synod, anyway?) I found that I quickly ran into old friends from the large web of lifelong local Catholicism. I also discovered others from unrelated parts of my life whose faith I was not even aware of until that weekend. The size of the gathering itself was inspiring, with the grass in front of the Cousin's Center filled with cars and a line at the entrance briefly bottlenecking traffic. The color red was prevalent like in an OLOL Pentecost celebration, the music was provided by choirs from all parts of the archdiocese and was sung in several languages, and the mood was upbeat and Spirit filled. In attendance were members of other local Christian and non-Christian faith communities, although I will say not as many as I had hoped.

Technology was well utilized throughout the weekend. We voted electronically using small handheld devices and the results of our votes could be seen immediately. Several videos were produced, which can be viewed on the archdiocese website.

In our small groups we went through each mission area, one by one, and discussed the merits of the various pastoral initiatives on which we would be voting. These initiatives came from the previous district gathering discussions on individual mission areas. After an opening prayer, each of us had the opportunity to "defend" what we felt were the top two initiatives. We were not allowed to interrupt or comment on one another's thoughts until everyone had had a chance to speak. After everyone had spoken, some great open dialogue began. We were asked to add what we felt was missing from the initiatives (a vital step!) and our discussions were noted in detail for eventual reading by the Archbishop.

You can read about the initiatives identified by the Synod delegates on the archdiocese website. I will provide more detail on these initiatives and the discussions surrounding them at a later date – stay tuned! I will close, however, by saying that it is my personal belief that the dialogue of the Synod and the invitation to pray and discern with those from all over the archdiocese, many of whom would never have otherwise met, is of greater value than any initiative or program. I have high hopes that the fruit of this discernment will be positive work and ministry. The connections made, the stereotypes challenged, the unlikely friendships formed and the openness I experienced are an invaluable part of who we are as Catholic Christians. I would like to bring the Synod back to you, then with the challenge: Who do you say that Christ was, is and will be in our midst? How will you build the unlikely bridges needed to keep our faith strong and whole?

Blessings of Peace,

Anne Schmidt

Catholic Identity: Liturgy

The Synod – Catholic Identity: Liturgy

The eight mission areas that were focused on during the Synod were divided into three categories. In the category of Catholic Identity (who we are), we reflected on the mission areas of Liturgy and Cultural Diversity. Under the category of Evangelization (what we do) were four mission areas: Formation, Catholic Social Teaching, Evangelization and Marriage and Family. Under the category of Stewardship (how we do it) fell the final two mission areas of Leadership and Stewardship.

In preparation for the Synod, the delegates were asked to read a background paper on each mission area as well as a summary of the ideas that came from the district session small group discussions surrounding each mission area. I have to be honest; the background papers were cumbersome, although they were written by various local theologians, making for some variety. The summaries from the district sessions contained "quick hits" and "innovative ideas" proposed by those attending the district sessions. The "quick hits" were things we could easily see ourselves tackling in our parishes. The "innovative ideas" were our pie-in-the-sky thoughts of how we would like to approach each concern if there were no constraints.

In this article I will focus on the discussion under the Catholic Identity: Liturgy category. Each mission area had seven key initiatives and our job as delegates was to discern through prayer, discussion, and reflection which two to vote for, taking into consideration the concerns expressed at the parish and district sessions.

In the area of Liturgy, the proposed initiatives were as follows:

1) Through highly engaging resources, make teaching about the Mass, its structure, symbolism, and meaning, a top priority in all parish and school formation programs, children through adults.

2) Create excellent online training modules for all liturgical ministers, with an emphasis on exercising liturgical roles with attitudes of joy, welcoming, and hospitality.

3) Direct our primary attention and strategic efforts to the weekend so that the music, message, and ministries form a high impact, integrated, evangelizing message of Good News, especially to the lost and seekers.

4) Create a "Campaign for Confession" initiative, coordinated across the archdiocese, which uses multiple strategies and top-notch resources to educate people about the beauty, truth, and goodness of Confession.

5) Develop creative ideas within liturgical norms for using emerging technologies in Church to enhance the preaching and prayer, without losing a reverence for the sacred.

6) Grow the staffing and mission of the Office for Worship so that it can promote the Church's liturgy through formation events, training opportunities, and professional mentoring.

7) Create a comprehensive online RCIA Institute that includes excellent, engaging, user-friendly resources to train and support parish practitioners in facilitating the RCIA process.

Note that these initiatives came from months of collating and essentially boiling down the concerns brought forth in both the parish and district sessions. Also notice that from that "boiling down," there is a great deal of emphasis on the need to utilize technology.

There was a great deal to discuss here, and discuss we did. Several of us in my small group pointed out the use of the word "Confession" as opposed to "Reconciliation." This, along with many other points we discussed, was noted for future reading by Archbishop Listecki. We defended our positions and at times changed our positions through our discussions. I'm forever impressed with the complementary wisdom revealed when two or more are gathered in God's name. In the end, we returned to large group and voted, and initiatives #1 and #3 received the most votes. There seemed to be a feeling that many of us as Catholics do not understand the Mass as much as we would like to, and as such, have difficulty passing down the reasons for our traditions. In the same vein, we want to be active participants, not just passive observers, and so we desire a vibrant and impactful celebration. At OLOL we all know that one of our strengths is vibrant celebration, so it was encouraging to see so many others with a hope for more powerful Mass experience.

Thanks for reading… Stay tuned… Up next, Cultural Diversity.

Catholic Identity: Cultural Diversity

The Synod – Catholic Identity Continued: Cultural Diversity

The second mission area we processed in small groups at the Synod was Cultural Diversity.  The process was the same, with opening prayer and each person stating their case, followed by time for open discussion.  Before dismissing we were invited to bring up anything that may have been missing from the initiatives to record for reading by the archbishop.

In the area of Cultural Diversity the following initiatives were proposed:

1) Develop a pastoral plan for the archdiocesan offices, parishes, and schools that articulates a clear and inspiring vision of the centrality of cultural diversity for our archdiocesan Church and identifies measureable goals and desired outcomes to enhance the multicultural dimension of the Church in the areas of parish life, worship, leadership, families, and youth.

2) Implement a culturally effective strategy for calling forth and supporting vocations to the priesthood, permanent diaconate, religious life, and lay ministry among the various ethnic / cultural groups in the archdiocese.

3) Develop a comprehensive process to pair diverse / less diverse parishes and guide them in building respectful and mutually beneficial "sharing parish" relationships with concrete opportunities for the ongoing sharing of culture and religious traditions, professional expertise, technology, and financial resources. The process will include training and resources for cultural competency to support parish leaders and parishioners.

4) Demonstrate our archdiocese's concern for issues impacting wide segments of our society through the strong and consistent leadership, involvement, and visibility from the bishops in the areas of social justice, especially on issues like poverty, immigration, and gun violence. This would not only speak positively of the Church, but would also offer hope and motivate the Catholic faithful towards greater involvement and advocacy.

5) Develop and implement strategic and culturally appropriate initiatives to identify, train, and support leaders to evangelize the youth and young adults in the various ethnic / cultural groups of the archdiocese.

6) Envision and implement a "Making Disciples Process" that is affordable and accessible for all, and can be adapted for the various ethnic / cultural groups, and can be delivered in a variety of languages as needed.

7) Promote inclusion of the various cultures in the Church at all levels.

Essentially this topic deals with the fact that we are a global, universal Church, but at the local level we don't always feel this reality. We live in a highly segregated part of Wisconsin, and although there are people of all ethnicities practicing the Catholic faith in our archdiocese, we often seem to be doing so in our separate parishes. The question posed here is simply, why? Are we not welcoming one another as we should? Is our leadership lacking diversity and if so, what can we do to address that? Is social inequity deepening existing divisions?

The "winners" here were initiatives #3 and #4. I personally was thrilled to see this because these initiatives are not about diversity training or diversity "fishing," if you will, but rather about coming together and forming relationships. Initiative #4 is a no-brainer – social justice is what we are about as Christian people. Our leaders need to be involved in ways we can see and feel. (As an aside, a beautiful example of this that has been going on for many years is Bishop Sklba attending an evening of the Reach Out Reach In program every year to hear about how local teens are learning about service and advocacy.) As Catholics we want and need to get our hands dirty in the work our communities need, and our leaders need to do the same.

I was a big proponent of initiative #3. From what I gathered from our parish sessions, at OLOL we want to build bridges between young and old, rich and poor, conservative and liberal, gay and straight, female and male, saint and sinner, seeker and teacher. However, even for the most open minded community, entering into deliberate relationship with another community will create certain growth opportunities. I believe that we need to make intentional efforts to make ourselves uncomfortable by spending time with people who may not think, act, or talk like us. The idea of pairing diverse and less diverse parishes with one another to build bridges of relationships could perhaps be a stepping stone to equality in our communities. Wouldn't it be great if the Church were in the media not for scandal, but rather for breaking down social walls? After all, what did Jesus do?

Thanks for reading… Stay tuned… Up next Evangelization and Formation.

Evangelization

The Synod – Evangelization

On Saturday afternoon of the synod, our small groups attacked the second grouping of mission areas. Under the umbrella of Evangelization (what we do) fell four mission areas: Evangelization, Formation, Catholic Social Teaching and Marriage and Family. To keep our minds fresh, these were divided into two discussion and discernment sessions. The proposed initiatives for the area of Evangelization were as follows:

1) Create a new archdiocesan position of "Media Director for the New Evangelization" to assist parishes and schools in using traditional, new, and emerging media to strategically reach the targets of active Catholics, lapsed Catholics, and unaffiliated seekers.

2) Implement a "Strategic Leadership Training Process" to train archdiocesan staff, seminarians, priests, deacons, school principals, parish staffs, and parish leaders in the vision, process, methods, and skills of "Missionary Leadership for the New Evangelization."

3) Place a particular emphasis on the City of Milwaukee as a place of evangelization, Catholic leadership training, and missionary action for charity and justice.

4) Create "District Evangelization Councils" for the sharing and implementation of best practices, and for networking people around common high-impact evangelization initiatives that reach active Catholics, lapsed Catholics, and unaffiliated seekers.

5) Implement a creative and strategic process in parishes and schools for building Catholic Identity and forming people and families in the essentials of the Catholic faith.

6) Form a consortium of Catholic technical professionals to research and create new Catholic apps, identify the best Catholic blogs and websites, and provide guidance on how to best evangelize through the ever-evolving social media, traditional media, and technology trends.

7) Expand the reach and maximize the potential of the Archdiocese Evangelization Office by adding as "Associate Director for Evangelization" with particular expertise in evangelizing youth and young adults in the lifestyle of missionary intentional discipleship.

Phew! Well that seemed like more of a mouthful than the initiatives in other areas to me, although they are no lengthier. Perhaps that is because I personally find myself shying away from the concept of intentional evangelization – a personal weakness of mine would be sometimes avoiding the more "put yourself out there" aspects of my faith. Evangelization for me is something more organic and spontaneous and it was hard to wrap my heart around ideas so strategic. Highlights of our group discussion included a strong feeling that we needed a greater presence in the central city. There was talk of greater availability of Eucharistic adoration followed by dissent to that concept, with one priest in our group stating that putting a great deal of resources into these very traditional practices is "saving the saved." As a whole, it seemed many in the group favored the idea of district evangelization councils as well as quality leadership training. The large group seemed to be in agreement, at least partly, with initiative #2, leadership training, having the most votes. Initiative # 5 came in second, with what seemed like a general feeling that many people are out of touch with the basic essentials of the faith. Initiative #4, creating district evangelization councils, came in a very close third. The idea of focusing on the city of Milwaukee, which was popular in my small group, only received 7% of the overall vote, however.

It seems that the top three initiatives could be quite complementary if carried out together and with sensitivity. If our leaders are consistently well trained and comfortable sharing their faith, then building a deeper shared identity, with cooperation and communication between parishes, schools, and districts, seems within reach. Perhaps we need to work together to come to a comfort level with living out what connects us as Catholic Christians. This isn't the responsibility of committees or directors in offices somewhere. It is the responsibility of each of us to follow that tug as natural seekers to learn, pray and grow, and gently invite others to do the same. However, seeking doesn't happen in a vacuum. That being said, I personally hope that, although it came in third, some sort of district cooperation is implemented so that evangelization can be more the fruit of our shared talents and perspectives.

Next up… Formation

Formation

The Synod – Formation

The last topic for discernment on Day One of the Synod was Formation, under the category of "Evangelization" or "what we do." Through discussion with the group, our existing knowledge of the vast differences in formation programs across the archdiocese was confirmed. Of course certain things are standard and required, such as, Confirmation happens at the high school level and completion of the Confirmation process requires a retreat experience. What is not standard is, using the Confirmation example again, the length and depth of the retreat. I spoke with parishioners who came from communities with intergenerational formation like ours and others with traditional drop off models, although this is not to place greater value on one over the other. Some individuals I spoke with were quite invested in their parishes drop off model of formation and had only good things to say about what their community was doing. The concern seemed to be that all parishes should have access to trained, supported staff and materials to provide a quality formation program, regardless of the shape that program may take. The proposed initiatives for formation were as follows:

1) Develop pathways to competency for professional lay catechetical leaders that include comprehensive formation, professional certification, and sound employment practices.

2) Promote certification for parish catechists as outlined in the Standards for Educators in Catholic Parishes and Schools.

3) Ensure that all programs of child and youth formation are shaped by a family perspective.

4) Develop a unified vision of formation for discipleship across the archdiocese.

5) Offer meaningful, relevant, and compelling opportunities for young adults that relate to faith and life situations.

6) Use professionally produced theologically sound digital media and technology to promote, support, deliver, and facilitate faith formation for all ages.

7) Ensure that all parishes and schools in the archdiocese have access to excellent quality formation for children, youth, and adults.

Initiative seven received the greatest number of votes by a significant margin, proving the sentiment of my small group, that quality formation for all is essential, was shared by the gathering as a whole. Initiative five came in second, which I find encouraging. I argued in my group that teens and young adults need hands on opportunities to express and explore their searching faith, especially in the area of service. I am proud to say that I swayed exactly one vote in that direction, according to a woman in my group. Initiative three came in as a close third, showing the idea that formation is a life-long family journey is alive and growing. There was a fair amount of talk about preparing leaders to be fully equipped lay professionals, as outlined in the first two initiatives. However, my groups felt that this truly should be covered by initiative seven – if all parishes and schools have excellent well trained catechetical leaders, then they will have quality formation. This is a top down model, but truly we all know that formation is not something that is done to us, it is something we need to actively participate in and support. The best trained and enthusiastic leaders can only do so much to help nurture hearts that are closed off to being formed. Perhaps what we can do in the meantime, while we wait for the Synod declaration in September, is to work on warming our hearts into malleable gifts from and for our Creator. We are all called to be formed and to reach out and form others, both of which require hearts open to the movement of the Spirit. May our formation programs be enriched by the chosen initiatives in the coming years and may we be open to that enrichment!

Next up…Catholic Social Teaching

Catholic Social Teaching

The Synod – Catholic Social Teaching

And now it's time for… (drumroll please)… the mission area of… (cue trumpets)… Catholic Social Teaching! Can I just tell you, fellow parishioners, how disappointing it is when we hear that Catholic Social Teaching is the Church's best kept secret? Why, exactly, are we keeping it a secret? It's our crown jewel! Perhaps that is just my opinion, but Catholic Social Teaching certainly is fantastic. Here's a brief review of the Seven Principles of Catholic Social Teaching:

Life and Dignity of the Human Person (Womb to tomb, we are all sacred.)
Call to Family, Community, and Participation (We have to be active in our communities!)
Rights and Responsibilities (We all have basic human rights and responsibilities towards others.)
Option for the Poor and Vulnerable (The least should be the first served.)
The Dignity of Work and the Rights of Workers (Equal pay for equal work.)
Solidarity (Live simply.)
Care for God's Creation (Earth is a living gift to be cherished and respected.)

So now that we've established the splendidness of these principles, let's delve into the proposed synod initiatives surrounding them:

1) Develop and implement the comprehensive use of technology to promote Catholic Social Teaching.

2) Strengthen the relationships of the Archdiocesan Social Ministry Office with other central offices and area organizations, such as the John Paul II Center, Catholic Charities, Catholic Relief Services, World Mission Ministries and St. Vincent De Paul Society to promote a unified and integrated mission and vision for Catholic Social Ministry.

3) Develop and implement multigenerational formation on Catholic Social Teaching that includes catechesis, advocacy and service.

4) Proactively communicate how we are already making a difference in the area of Catholic social outreach (evangelization and marketing).

5) Provide a strong, coordinated, Catholic response in relation to social issues in our communities in the archdiocese.

6) Strengthen or build Human Concerns Commissions within every parish.

7) Train and for future leaders for Catholic social ministry.

The big winners here (both by a significant margin) were initiatives three and five. How encouraging is it to see that the archdiocese as a whole wants to teach all generations about our beautiful social teaching? I find this to be a wonderful outcome and I hope that we, as an archdiocese, take it and run with it. Even more important than making sure everyone learns about social teaching, is of course putting it into practice. I personally like that our responses to social issues are going to be "strong and coordinated." I take strong to mean that our numbers of faithful committed to positive social change will skyrocket. Coordinated of course means that we will work together, despite our differences. How do I know this is going to happen? Simple! You (yeah, you!) and I are going to get involved, get our hands dirty and work hard! I'm not even going to ask if you're with me, because I already know that you are in 100%, so for that, thank you! (Oh, and if you're not sure where to start, just ask our teens. They are amazing!)

Next up… Marriage and Family!

Marriage and Family

The Synod – Marriage and Family

Marriage and Family… it sounds cheery enough, but the details of how we live and define Marriage and Family as a society have become hot button issues. The Church is, of course, not exempt from the debate, but rather often at the center of it. It is amazing how people of the same faith tradition brought up in the same general location can have such vastly differing views of how God views family life. What was even more amazing at the synod, was the level of respect and understanding I experienced despite those different views. I will first share with you the key initiatives in the mission area of Marriage and Family.

1) Create dynamic communication and catechetical initiatives that affirm and defend the traditional definition of marriage as the permanent, faithful, and fruitful covenant between one man and one woman. "Preach it. Proclaim it. Witness it."

2) Implement a "Building Catholic Families" campaign that includes practical, user-friendly strategies for families to strengthen and practice their Catholic identity in a culture of "busyness" and family disintegration.

3) Empower families to combat the negative realities present in the culture, such as pervasive pornography and attempts to redefine marriage, through education on social justice issues and legislative action alerts to engage society in positive ways in order to create a more just society.

4) Launch a comprehensive multi-generational (youth, teen, young adult, adult) effort to teach a true, Catholic understanding of the human person.

5) Implement new, creative and effective strategies that provide support at the parish and archdiocesan levels for engaged and married couples.

6) Increase the knowledge and understanding of the annulment process as part of an overall evangelization initiative that reaches out to separated and divorced Catholics.

7) Design and implement an inspiring evangelization initiative that promotes the Catholic view of marriage and family life to intercultural, interfaith and non-traditional families.

So, the wording of some of this caused me to bristle a bit, and I went into the discussion sweating and… perhaps ready to pounce. My small group exhibited diverse beliefs and experiences surrounding Marriage and Family, and the discussion quickly went to the unspoken issues of homosexuality and birth control. We had participants with very traditional viewpoints and those with very liberal viewpoints, and others everywhere in between. (In case you're wondering, I fall "in between.") There was much discussion of the fact that we place too much emphasis on sins that are related to sexuality. There was also some discussion on how confusing Catholic teaching on these issues can be and how much we can misunderstand them. I spoke last, and we were nearly out of time as everyone had a lot to say about this topic. I decided I would focus my energy on promoting what was positive in the initiatives. Instead of pointing out what is "wrong," I felt we should work on building up families and creating a culture where we all feel supported, regardless of how our family structure appears. This seemed to be the consensus of the delegates, as the initiatives that received the most votes were the second initiative on strengthening families and the fifth initiative on providing support for couples. I am interested to see how this is reflected in the upcoming declaration. My hope is that there will be some practical considerations that were mentioned during the process, such as not scheduling church-sponsored sporting events on Sundays and encouraging FOCUS couple follow up meetings. My deeper hope is that there will be a shift in focus from negative us vs. them thinking that happens with hot button issues to a more inclusive realization that, as is so eloquently stated in Romans chapter 8, "Nothing can separate us from the love of God through Jesus Christ our Lord." Romans states that "neither height nor depth… nor past things… nor future things" can separate us from God. Perhaps we could add "Neither politics nor anger… shame nor misunderstanding… nothing can separate us from God's love." Isn't that what marriage and family is all about? Deep, accepting, nurturing love?

Next up…Stewardship

Stewardship

The Synod – Stewardship

The second to last topic for discussion at the synod was the one most people don't get too excited about discussing… stewardship. It's awkward to ask for money, sometimes challenging to give money, and generally speaking, there just isn't enough money to run our parishes as we would like to see them run. I personally went into this one feeling generally ho-hum, hoping for inspiration to hit me. We had some discussion about time / talent / treasure and of course the general round of complaints that often the same few people get stuck volunteering for everything. I got to gloat a bit about how at OLOL we do have certain people who volunteer quite a bit, but our core group is pretty large and we are usually able to recruit volunteers when needed. (Of course we could always do better!) There was even talk of using the word "discipleship" instead of "stewardship" with both terms being defended for their root meaning. It was an interesting and thought provoking discussion! The initiatives for discernment were as follows:

1) Develop and implement comprehensive stewardship curriculum to educate and train existing pastors and associate pastors about the theology of Biblical stewardship, and implementation of best practices for parishes.

2) Develop educational programming and materials to train small outreach / stewardship / evangelization action groups in every parish to focus on internal and external invitation and engagement.

3) Develop stewardship curriculum for use in Catholic schools and Christian formation programs to focus on stewardship with our youngest stewards.

4) Develop multigenerational programming on the theology of stewardship that incorporates events and service components.

5) Revive annual archdiocesan stewardship conferences (1-2 days). Make it formational and educational.

6) Engage in an archdiocesan-wide offertory process that includes multi-generational components designed to increase stewardship at all levels (prayer / service / financial support).

7) Develop and implement a pilot program to move 1-3 parishes to a full stewardship model over 5 years.

I learned from my fellow delegates what a full stewardship model would look like. For a parish with a school, it would mean that the school would be entirely supported by the parish to the extent that students wouldn't have to pay tuition. We had a delegate from St. Sebastian's parish who described their school's sliding scale tuition system. In a parish such as ours, it would mean that all formation would be paid for by donations so that GIFT fees, retreat fees, etc. would be a thing of the past. This would of course require a significant increase in giving. I would be curious to see how a pilot program like this would work; however, this initiative was not in the top two. Numbers two and four were the big winners here, with number two focusing more on building community and inviting new parishioners into our parishes. Number four dealt with multigenerational programing, a common thread throughout the synod process. There seems to be a general feeling throughout the diocese that we need to provide formation and service experiences to everyone, regardless of age. It will be interesting to see how this is tackled in the synod declaration in a couple of weeks! Perhaps we will see more multigenerational programs in the coming years, and maybe this approach will have a significant effect on not only stewardship, but also engagement and individuals' personal growth.

Next up…Leadership

Leadership

The Synod – Leadership

It's hard to believe that summer is over and very soon we will see Archbishop Listecki's declaration regarding the priorities identified by the synod delegates. This is my final article of this series and it is about the mission area of leadership. The key initiatives in this mission area were as follows:

1) Foster a call to diocesan priesthood and religious life.

2) Expand vocation promotion for permanent diaconate.

3) Support, train, and form qualified lay ecclesial ministers (paid church positions) in service to the Church, with an emphasis on developing leadership roles, especially for women.

4) Develop a training / formation program for non-paid parish leadership.

5) Develop approaches to identify new parish leaders and a succession plan (non-paid parish leaders).

6) Lessen the administrative load of priests so they can focus on pastoral and spiritual responsibilities.

7) Increase the number of parish staff who are younger and more culturally diverse.

Discussion predictably quickly veered toward women's ordination, particularly women in the diaconate. Also, of course there was discussion of married priests. These were included in the discussion notes but of course were beyond our circle of immediate influence. Radical changes, although mentioned, were not the focus of the discussion. We discussed how we would love to see younger and more diverse parish staff. However this is not something that can be forced; rather it can only grow through invitation. Formation of leaders, as well as volunteer support seem to be key to the greatest success of our leaders. With this in mind, the initiatives that received the most votes were numbers three and six. Initiative three places the emphasis not just on recruiting leaders, but on training and supporting these lay ministers. The priests in our discussion group spoke to the ways in which administrative responsibilities conflict with the pastoral vocation parishioners need them to live out, which is the concern addressed with initiative six. The focus of the results seemed to be on building lay leadership at the parish level for both ministers and administrators while supporting priests in their ministries. This seems like a practical approach that many parishes are already implementing in one form or another. Hopefully we can see an expansion in this work as well as creating a Church where our leaders; ordained, religious and lay, are fully supported by a team of trained and valued volunteers.

I have been honored this past year to represent Our Lady of Lourdes as our synod delegate and have enjoyed sharing the experience with all of you via these weekly summer articles. I hope I've done justice to the responsibility bestowed on me. It is a challenge to be a part of a global church filled with millions of different opinions and experiences. Sometimes it feels like it is hard to move forward within the vastness that is our Church. We can begin on the local level; however, with respectful dialogue and common ground. The Body of Christ, of which we are all part, is made up of many necessary parts, personalities, opinions, passions, talents, dreams, and points of view. As we know, the vantage point of our toes is very different from that of eyes. Our eyes take in beauty and information and they are themselves beautiful. However, without the balance brought by our toes, how could we stand? We need all parts, beauty and balance, to bring about the Kingdom of God. Let us continue this dialogue as the Body of Christ.

With Gratitude,

Anne Schmidt