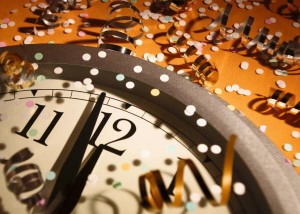 Every year over 100 parishioners and their families and friends come and dine and dance in the New Year!
Susan and Gerry Wenszell have been cooking and planning this event for many years. Now, many of their older children help with the event. After a wonderful dinner the music and dancing begin. Fathers and daughters, mothers and sons, grandma and grandsons, husbands and wives, 5 year old boys and girls ~ all sorts of combinations are out on the dance floor having just a great time! Because this is such a family friendly event we usually have many young children. In their honor we pretend the party begins at 9:00 pm and ends at midnight, instead of the real time of the party, 6:00 pm -9:00 pm. We celebrate with sparkling grape and apple juice and wish each other Happy New Year. Families head for home, children head off tiredly for bed, and parents can have the rest of the evening to celebrate as they choose. Many of our seniors eat, dance, and enjoy watching the young families. This is a great event for all ages. Join us this year!
SATURDAY, DECEMBER 31, 2015
6:00 pm -9:00 pm, Parish Hall
We'll turn the clocks ahead so 9:00 pm will seem as midnight
Our delicious dinner will feature appetizers, turkey, pulled pork sandwiches, mashed or cheesy hash brown potatoes, green beans amandine, corn, and various desserts.
Please bring a bottle of sparkling grape or apple juice.
Music provided by Happy Feet DJ Services with lots of fun after dinner.
Bring your whole family!
LAST DAY TO REGISTER is DECEMBER 28
New Year's Eve 2014
This slideshow requires JavaScript.