"The church earnestly desires that all the faithful be led to that full, conscious, and active participation in liturgical celebrations called for by the very nature of the liturgy. Such participation by the Christian people as 'a chosen race, a royal priesthood, a holy nation, God's own people' (1 Peter 2:9) is their right and duty by reason of their baptism."
(Constitution on the Sacred Liturgy)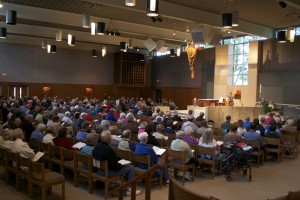 Liturgy is often cited as one of the "treasures" that draws people to worship at Our Lady of Lourdes: The music, preaching, rituals, and creative approach to liturgy all contribute to provide communal prayer that speaks to the heart, mind, body, and soul. As the saying goes, "It takes a village," and the dynamic worship we experience and treasure would not be possible without the work of many, many hands.
We invite and encourage each of you to consider one of the many areas listed below and click on the title to discover how you can give of your time and talent. Together, we can continue to grow and to be the treasure that is Our Lady of Lourdes.
The contact person for the following ministries is Chris Deily, Director of Liturgical Ministries at (414) 545-4316 or via email, unless otherwise stated.
Lector and Server Sign-up Forms
Liturgical Volunteer Opportunities
Altar Servers – assist the Priest/Presider during the liturgy
Audio/Video Ministry – operate worship space camera, in-Mass slideshows, and all other A/V aids for liturgy
Eucharist Ministers – distribute the consecrated bread and wine to the community at liturgy
Funeral Sacristan and Server  – help prepare funeral liturgies
Lector (Minister of the Word) – proclaim the Scriptures at liturgy
Liturgical Art and Environment  – help change the décor of the worship space based on liturgical season
Liturgical Drama – proclaim the Word through drama
Liturgy Planning Team – help prepare and implement seasonal, sacramental, and feast day liturgical celebrations
Minister of Hospitality (Greeter/Usher) – provide a welcoming presence to all who come through our doors
Sacred Movement – use different forms of dance to proclaim the Word and enhance rituals
Sacristan Aide – keep the sacristy well stocked and in good working order
Wedding Assistant – help Presider and with hospitality as needed
Weekend Sacristan – help prepare for liturgy
Ad Hoc Assistants
There are a number of things which fall under the umbrella of Liturgy but are not directly associated with a particular ministry.  The following are some additional ways to give of your time and talent:
Orders of Worship Collators – approximately once a month an ad hoc group gathers to collate the monthly worship aid.
Dusting and watering plants in the church and lobby area
Laundry—baptism towels, purificators, etc.
Sewing—such as the envelops used to bring the Eucharist to the home-bound
As you can see, there are many ways to give of your time and talent! If you have an idea for a liturgical ministry that you would like to start up, please contact Chris Deily, Director of Liturgical Ministries at (414) 541-9470 or via email.