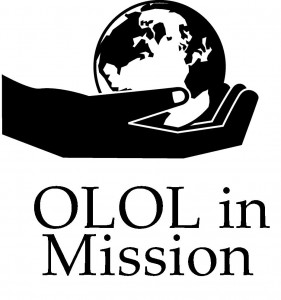 Welcome to the Haiti 2013 e-Journal.
This page chronicles the story and reflections of our Haiti Missionaries from their journey in August 2013. Click on any date/entry below to see many pictures and read what our pilgrims had to say.
August 4

Hi OLOL,

We have arrived in Miami. It is late (1:30 am Miami time). We will sleep a little and then go back to the airport to catch our flight into Port au Prince. We leave Miami at noon and arrive in Haiti a little after 2:00 pm. After clearing customs and getting our luggage and getting through traffic we hope to be to the house by 5:00 or so.

It is exciting to be going back. This twinning relationship is just that — a relationship! It is good to see our Haitian brothers and sisters each year and hear about their live and the work that is being done by Outreach to Haiti. They also look forward to seeing people from Our Lady of Lourdes each year. They are always so pleased to have us there.

We have asked (several times) the Haitian staff there if it would better for us to send less people and just send more money. Each time they have told us how important they think it is for us to come. They want us to see them and get to know them and to return and tell their stories. They believe it is a relationship that can't happen without us seeing each other face-to face. It is all about friendship and understanding.

So our group is looking forward to representing OLOL on this trip!

Thanks,

Ralph, Tanya, Ann, Colleen, and Marty

August 5

The first day in Haiti…. A lot has changed and a lot has stayed the same. One of the first things I noticed is that the tent cities that were outside the airport when I was here in 2011 are gone. Amen! The roads however have not changed… lots of potholes Fr. Bill! – Ralph

Returning to Haiti is like returning to home away from home. People have asked me why I keep coming back, I see Jesus in the eyes of the Haitian people, feel called to be here to show them that they are not forgotten. – Peace, Colleen

We were greeted warmly at the mission house. It felt like coming home. Jean Baptise cooked a wonderful meal for us and now we are relaxing on the porch before a busy day tomorrow. Blessings! ~Tanya

I am returning to Haiti for the first time since 2001, so much of the environment has changed, but the warm welcome was very familiar.  I feel so blessed to be a part of this experience!  – Ann

It is interesting to be part of a group that consists of people that have all been to Haiti before. Much of our discussions this evening have been comparing Port Au Prince in the past to what we experienced today. Some things have changed, the lines to get through immigration and customs are more organized than ever before. Construction of sidewalks and roads continues. This week we hope to see some of those positive changes. ~Marty

August 6

Hi OLOL,

Today we had a great time! We visited an orphanage run by a lady named Paula Thybulle. It is an Paula has been doing this ministry for over 30 years. She currently has 59 girls living there and it is a loving and caring home for each one of them. Paula is a woman filled with the Holy Spirit and works hard to follow what God is calling her to do. Outreach to Haiti (with whom we twin) supports Paula and her work at the orphanage.

We were blessed to be able to sing, dance , and play with them for quite a while. We will let the pictures speak for themselves.

Thanks for all your prayers and support,

The OLOL Haiti Mission Group

Click on any picture to enlarge and view the gallery.

August 7

Another busy and hot day (every day has been mid 90's – both temperature and humidity). Today we traveled to the Kris Wa (Christ King) the other campus of Outreach to Haiti. We met briefly with Max (the director), toured the health clinic, and celebrated Mass with the staff. After our visit we headed over to the Artisan Coop where we buy a lot of the crafts we bring back for the craft sale at OLOL. We then went to the Olofsonn Hotel (the Olofsonn is very famous in that a lot of political meetings and decisions have been there over lunch. Graham Greene's novel "The Comedians" story line was centered around this hotel) where we ate lunch. After lunch we went up to Petionville to pick up some crafts we ordered the other day and then back home (it is a great experience driving through the streets and seeing all the people). It was another great day!

Click on any picture to enlarge and view the gallery.






August 8

Today we started off with a couple of visitors to the house and then went to visit LaMaison L' Arc-en-Ciel (an orphanage supported by Outreach to Haiti) and then to the "Lookout" over Port au Prince.

We also visited the Baptist Mission (we didn't take any pictures). They have a store, a bakery, a school, and many other projects. There are also many vendors that are around there gates selling wares.

Here are some reflections from our group members:

At the Baptist Mission, there were many vendors that were all trying to sell their goods to us. Throughout the trip it has been difficult for me to not buy something from everyone. I feel like I am personally denying these people when I say I do not want their goods. So I try to talk to them a little instead. One man that I talked to said he had seven children, one of  the many merchants  that have many children to support. Another man said "Maybe you'll buy something next time" and I told him I would. Then he said "Pray for me" and I told him I would. I would invite all of you reading this to pray for that man and all of the people of Haiti.

~Marty Sullivan

Hello,

Today we went up on the mountain to be with kids at an orphanage for kids with HIV and those who care for them- it is, as so many places in Haiti, amazing and inspiring.  The dedication of the people in Haiti that care for the those who might be otherwise cast off leaves me in awe.  I so wanted to pack up one of the children to take home with me.  (…..by the way Ralph is not allowed to check my luggage prior to departure)

The weather was also much cooler up on the mountain – so was a welcome relief.  The trip up and down the mountain is made more interesting by the numerous potholes to attempt to be dodged – often with limited success.   – Ann

Arc en Ciel is often the highlight of my week while in Haiti. The children are incredibly warm and loving, and greet us with hugs and kisses. Today there was a one year old baby,

Ester. She has been very sick with TB and HIV. We all took our turn holding her and loving her. I ask each of you to pray for her as she heals in the loving care of Arc en Ciel. – Peace, Colleen

Today we went to Arc en Ciel. This is the highlight of my trip whenever I come here. I was hoping to see Jennifer since I first met her in 2009 when she was  1 1/2 yrs old. In 2011, I saw her again when she was 3. It has been fun watching her grow up. She wasn't there.  I did however meet Esther and Adele and reconnected with Emil and Linda. Many changes have been made to the building since I was last here. However, what made my day this time around was seeing the artist that I have seen the last two times at The Lookout. I told him that I remembered the painting he was working on 2 years ago and his eyes lit up…. that I would remember him and his painting. He has finished that painting and considers it one of his best works. Today, I learned his name was Desmu Jr. Our twinning with Outreach to Haiti is all about relationships. Knowing someone's name and talking with them about their life, their family, their country… that is relationship. I told Desmu that I would pray for him. Will you pray for him too?

If you want to live in solidarity with us, try a Haiti shower! Since water is so precious here, you turn the water on and get wet. Turn it off. Lather up your hair with shampoo and your body with soap. Then, turn the water back on and rinse off. If you truly want to make it a Haiti shower, do it with cold water. They don't run hot water heaters here. Morning showers are cold. Afternoon showers might be warmer since the sun has warmed the water tank. Blessings! – Tanya

Click on any picture to enlarge and view the gallery.

August 9

We had another great day! We started by meeting with the house staff from Outreach to Haiti. It was great to share thoughts and feelings about Haiti and our twinning relationship. We then made a rather long arduous journey to visit Jean Baptise's new home (his previous home had been destroyed in the earthquake). He was very anxious for us to see it and he is quite proud of it. He was able to buy land and get a temporary house but now needs to build (the wooden temporary house is only expected to last a couple of years). He doesn't have a lot of money so he will build it as he is able. We went up to his house with Sr. Yannik who is the bishop of Norwich's representative in Haiti. We had a great time visiting with her. We then ran some errands in Petionville and went to lunch. When we returned home there was a vendor that could not come yesterday waiting for us. Colleen bought a beautiful tablecloth from her!

It was another great day! Thanks for all of your continued prayer support!

Click on any picture to enlarge and view the gallery.






August 10

Can't believe it's our last day in Haiti. The days go by so fast here. Part of it is the driving time and part of it is all of the things we are trying to pack into the day. Headed to the Caribbean Market this morning with Fr. Frank and Rosebert. Needed to pick up the ever-popular Haitian vanilla and coffee.

Then we came back to the house and relaxed a little before taking the staff out for lunch. This was the combined staff from the mission house where we stayed and the staff from the other house. It will be so nice when Outreach to Haiti can all be in one location! They have been trying to do this since the earthquake. It was like one big family celebration and the food was awesome! Jean Baptise and Jean Marie couldn't stop saying how happy they were to have all the staff together with us and couldn't stop thanking us! The smiles on the faces in the picture will tell the story.

It is hard to think that we are leaving. We are leaving friends behind.

I typically come to Haiti to help ground myself, to remind me of what is important, to prioritize my life. Once again, my friends in Haiti have helped me do this. I cannot thank them enough. Yesterday, we kept asking what we should tell all of you about Haiti. Jean Marie said it best. "Tell them to come down and see for themselves. We don't get enough visitors at the house. We love to have visitors. We love to make the house ready for new people!" So, I would challenge you a little. Have you thought about coming here? It is a great experience. A chance to enhance your spiritual journey.

I feel blessed to be here again. I feel gratitude for the group I came with – Ralph, Colleen, Marty, Ann and Fr. Gerry all people who have been here before. I feel loved by the staff here at the mission house who took such good care of us. And, I feel immense love for my brothers and sisters, the people of Haiti.

Please pray for safe travels home!

Blessings ~Tanya

Click on any picture to enlarge and view the gallery.





Interview with Paula Thybulle
Paula Thybulle has run an orphanage for girls in Port au Prince, Haiti for over 30 years. It is one of the many projects directly supported by Outreach to Haiti. Paula shares with us some stories of her work in an interview with Ralph Stewart, who co-ordinates the Outreach to Haiti effort here at OLOL.