Our Lady of Lourdes Music Ministry Proudly Presents
Gaelynn Lea in Concert
Friday, September 16 at 7:00 pm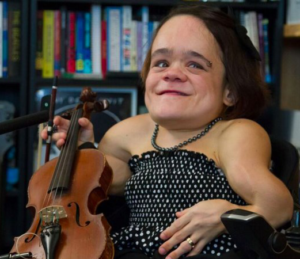 Gaelynn Lea lives in Duluth, Minnesota, where she teaches violin, composes music and lyrics, and performs in the band, The Murder of Crows. Gaelynn's distinctive style uses a loop pedal to layer harmonies on the violin, over which she sings beautiful poetic lyrics.
Winner of NPR's 2016 Tiny Desk Concert, Gaelynn recently performed at the Kennedy Center in Washington D.C. to commemorate the 30th Anniversary of the Americans With Disabilities Act.
Come experience her beautiful music and hope-filled spirit.
There is no admission charge, but a free-will offering will be collected to offset the cost of the event.
Experience Gaelynn's music!
Gaelynn Lea: NPR Music Tiny Desk Concert
Gaelynn Lea, the winner of NPR's second annual Tiny Desk Contest, makes music like nobody else. Her sounds are steeped in the deep melodies of great Irish fiddle tunes, but her performance and singing style aren't traditional. More than 6,000 artists submitted videos in which they performed an original song behind a desk of their choosing with the hope of winning a chance to play a Tiny Desk concert at NPR.
"Life Well Lived" by Gaelynn Lea
This is a song created by Gaelynn Lea during the Beaners Central 36 Hour Songwriting Challenge in Duluth, MN. The participants were given a writing prompt (Bravery) and then had 36 hours to write and then perform a new, original song. Gaelynn used a Memory Man looping pedal to create the layers for the piece.
"Red-Haired Boy" performed by Gaelynn Lea
This is an improvisational version of the fiddle tune "Red Haired Boy", performed live by Gaelynn Lea on 02/21/15 in Duluth, Minnesota. The origins of this traditional melody can be traced back to Ireland in the 1840's.