"NONE" – Celebrating the Hour of Mid to Late Afternoon as the Day Begins to Slowly Fade Away and Afternoon Shadows Start to Lengthen.
A Summer PrayART© Class offered by Mary Ann Logic
Tuesdays, June 6 – 27
1:00 pm – 4:00 pm
Y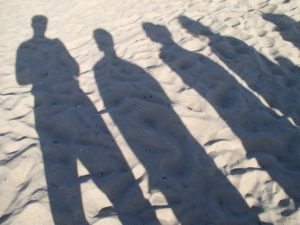 ou are invited to join us to pray in the language of ART. This summer, we will continue to be inspired by the Church's Liturgy of the Hours celebrating the hour of "none." None is one of the ancient traditional hours (mid to late afternoon that many monks from around the world use to guide their prayer). We will use all new PrayART exercises focusing on the passing of everything, handling the unalterable fact of life that we can't keep something forever, and dealing with the impermanence of life, which is exactly all of the subjects that the observance of this hour addresses.
The PrayART classes offer you a chance to take a break from your busy day, sit down in a prayerful and creative atmosphere, take a deep breath, and return to the silence and stillness, which is at the heart of the human soul.
Praying the Liturgy of the Hours can restore you. It reminds you of the importance of having a realistic sense of time. It adds a gentle rhythm to your days that can often be drowned out by the demands of our busy lives if we do not take the time to slow down and become aware of the presence of God.
In this session, we will create our own table-top monk's cell and direct our attention through meditation and art projects to the issues of forgiveness and death (life facets which the afternoon hours traditionally focus on). Through this observance of None, we will discover and learn lessons will assist us in being mindful of living each day of our lives to the fullest. Dress for the weather, as some of our meditations will take us outside.
Please register through the Parish Office. A supply list will be forthcoming upon registration as our time together gets closer.
Art Guild
The Art Guild is open to all visual artists in the parish and beyond. The group meets on the last Wednesday of the month from August through May (no meeting in December) from 6:30 pm-8:30 pm, Meetings consist of a variety of studio nights, presenters, film/book discussions. Parish wide projects and field trips are a part of our work.
2016/17 Schedule
August 31
September 28
October 26
November 30
January 25
February 22
March 29
April 26
May 31
Past Workshops