Women's Retreat
Retreating…
When despair for the world grows in me
and I wake in the night at the least sound
in fear of what my life and my children's lives may be,
I go and lie down where the wood drake
rests in his beauty on the water, and the great heron feeds.
I come into the peace of wild things
who do not tax their lives with forethought
of grief. I come into the presence of still water.
And I feel above me the day-blind stars
waiting with their light. For a time
I rest in the grace of the world, and am free.
["The Peace Of Wild Things" by Wendell Berry]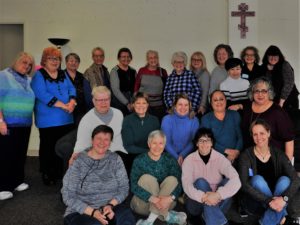 Do you ever feel as though a spiritual vacation is in order? Wendell Berry speaks of "…a time
I rest in the grace of the world, and am free…"
Do you long for some quiet, some gentle conversation, and the gift of stepping out of the everyday?
You may be in need of a spiritual retreat.
Retreats have a long presence in the history of our Catholic Christian faith. Retreats offer one the opportunity to step back, to breathe, to listen for God, to discern, to prayer, to simply, be.
Retreats are varied in their format and timing, but the common factor in our tradition, is that they lead one to God.
Wisconsin offers a variety of retreat venues, including Benet Lake Retreat house, where we host the annual Women's Retreat. Other spots include Siena Retreat Center in Racine, the Redemptorist Retreat Center in Oconomowoc, and the Jesuit Retreat House in Oshkosh. You can find a more complete listing here.
Retreats run the gamut from a one day long time of group or personal reflection on a theme to a month long Ignatian silent retreat! Most people opt for a weekend experience, which gives one the time to unwind and move into a prayerful mindset.
Thank you to those who attended the 2018 Women's Retreat. Join us for our next Women's Retreat in 2019!